Sustainable Project
Human Green City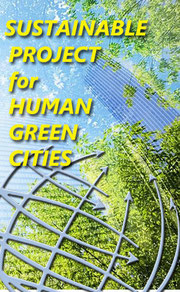 It is an operational method for the management of sustainable urban development.
We proved that urban management can improve through the joint analysis of the environmental,social and economic sciences, of urban and building design and of the technics of construction, thentransferring research results into design decisions and operational strategy. This way, we tackle thecomplex subject of living, of the land use, of energy saving and of a better use of natural resources inan integrated way.
This Italian experience is twenty years old (see the "Contratti di quartiere", literally: "neighbourhoodcontracts") and is feasible in accordance with Albanian culture operators having similar degree ofexperience. The group I represent consists of university professors, architects, urbanists, specialistsin environmental problems and green technologies, specialists in economics and social analysis.
Principal Members
- Mr. Marco Ferrero, engineer, charter member and technical manager of STEGET srl, an engineering society of Turin responsaible for urban planning and architectural design; the projectarea leader of STEGET is Mr. Massimo Lovera, architect. STEGET is also participating in projects of the Chamber of Commerce of Turin for the promotion of the internationalization;
- Mr. Giancarlo Pavoni, architect, founder of ArTech Studio, architecture design and planning office of Turin, and professor of Architectural Technology at the School of Architecture of thePolytechnic of Milan – Bovisa;
- Mr. Piero Neira, Mr. Bruno Sicca and Mr. Mauro Miraglio, engineers, owners of SPE, an engineering society of Turin specialized in plants design;
- Mr. Mario Grosso, architect and professor of Architectural Technology at the Second School of Architecture of the Polytechnic of Turin;
- Mr. Dino Pinelli, economist of FEEM - Fondazione ENI Enrico Mattei (ENI Enrico Mattei Foundation), a Milan based nonprofit, nonpartisan research institution devoted to the study of sustainable development and global governance;
- Mr. Raffaele Bracalenti, physician and psychoanalyst, president of IPRS - Istituto Psicoanalitico per le Ricerche Sociali (Psychoanalytic Institute for the Social Researches), a Rome based research institute oriented to the analysis of aggregation mechanisms in civil society.
The group is also integrated with Italian entrepreneurs of the field, involved in the study, productionand utilization of advanced technologies.